In 2007, Dennis Nyback of the newly formed Oregon Cartoon Institute conducted video interviews at the inaugural Platform International Animation Film Festival. The festival took place from June 25-30.
Dennis also created a trailer, talked to animators during the festival picnic, and participated in the installation walk. The trailer also announced the intention to produce a documentary about Oregon animators. This project was never realized.
Interview with Marilyn Zornado, Festival Coordinator.
Interview with Marcy Page, International Film Board of Canada.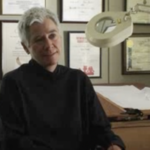 Interview with artist Rose Bond.
Interview with artist Jim Blashfield.