The Fifth Annual Oregon Film History Conference Music and Oregon Film History took place on May 3, 2019 on the campus of Lewis & Clark College in Portland, Oregon.
The conference was supported by Oregon Film, Oregon Film Museum, James Blue Alliance, Sirius Media and the Kinsman Foundation. A list of participants and sponsors is available here..
Steering committee:
Libby Burke, BPA
Michele Kribs, OHS
Elizabeth Peterson, UO
Anne Richardson, OCI
Event manager: Gretchen Harmon
A/V support: Brad Robinson
Talks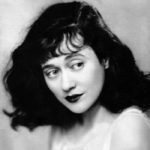 Music on Film: Lee Morse, by Dennis Nyback. Lee Morse became a top selling recording artist in 1924. She appeared, as herself, in three early soundies made in 1930. Nyback makes the case that Lena Corinne Morse (1897-1954), born in Cove, Oregon and brought up in Kooskia, Idaho, is the first recorded jazz singer.
Music in Film: Johnnie Ray, by Anne Richardson. Singer-songwriter Johnnie Ray's The Little White Cloud That Cried sold two million records in 1952. In 1954, he starred in There's No Business Like Show Business.  John Alvin Ray (1927-1990) was born in Dallas, Oregon, and grew up in Portland.
Music and Film: Ken Kesey, by Richard Gehr. Novelist Ken Kesey (Sometimes A Great Notion, One Flew Over The Cuckoo's Nest) bought his first movie camera in 1964. In 1965, he began creating immersive art happenings which combined films with live music. Kenneth Elton Kesey (1935-2001) was born in La Junta, Colorado, and grew up in Springfield, Oregon.
Music, Modernism and Mid-Century Portland, by Alexander Benjamin Craghead. The Beatles played Portland during their second American tour. Craghead discussed the modernist masterpiece in which they performed, and described the way it expressed the values and dreams of mid century Portland. His talk was entitled Your Precious Old Dumb Stuffy Coliseum": Memorialization, Urbanity, and Democracy in 1960s Portland, the first half of the title being a quote from an angry fan who didn't get into an overbooked Beatles concert. Image credit: Coliseum 17, Graphite on paper, 40×60 inches, 2017, Avantika Bawa.
Bill Plympton I: "Brush up on Bill", by David Chelsea and Paul Harrod. Bill Plympton's first hand drawn feature, The Tune (1992), was a musical. His fifth and sixth, Idiots and Angels (2008) and Cheatin' (2013), have entirely musical soundtracks. No dialogue at all! Plympton's work is revered by animators and beloved by audiences around the world. Graphic novelist, cartoonist, and commercial illustrator David Chelsea will discuss Bill's uncommon mastery of perspective. Production designer Paul Harrod will discuss Bill as a fellow designer of story worlds.
Bill Plympton II: Marne Lucas on Bill Plympton, by Marne Lucas. Lucas, an infrared video pioneer and visual artist working at the intersection of feminism, art, technology and health, discusses her response to Plympton's work.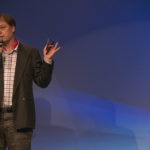 Bill Plympton III: Jim Blashfield with Bill Plympton.  The two Oregon filmmakers in conversation about Plympton's use of music in his films.
Photos from the conference.
All photos taken by Oregon Cartoon Institute event photographer Ned Thanhouser, except the shot of Bill Plympton and Marne Lucas by Kohel Haver. Click here to see the slideshow below as a pdf.
For more images, see Anne Richardson's blog entry.
Click here to access the original conference schedule, click here for the speaker bios and click here for the guest list.