The Third Annual Oregon Film History Conference took place on May 5, 2017.
The conference was supported by Oregon Film, Oregon Film Museum, and Picture This Production Services & Stage.
The Oregon Cartoon Institute invited Oregon music celebrity Steve Stone, a "lifetime Looney Tunes fanatic" to attend the conference.
Talks
KGW Hoot Owls (1923-1933), by Ronald Kramer. Mel Blanc was a member of this wildly improvisational Jazz Age radio show, beloved by hundreds of thousands of listeners. In this (staged) publicity shot, the KGW Hoot Owls are being rounded up by the Portland police.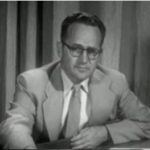 Lester Beck (UO '30), by Elizabeth Peterson. In 1947, Lester Beck made HUMAN GROWTH, the best middle school sex education film the world had ever seen. From this unlikely beginning, he became the head of the film department at USC in 1950. He brought Andries Deinum (1918-1995), future founder of PSU's Center For The Moving Image, to Portland in 1957.
William B. Gruber, inventor of Viewmaster, by Gretchen Harmon. William B. Gruber arrived in Portland from Bavaria in 1924. In 1939, he invented a handheld stereoscopic viewer which sold by the millions. Both the viewers and the reels were manufactured in Portland, providing work for Norm Dimick's processing lab, among many other ripple effects, both economic and cultural.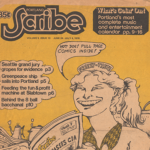 At the Scribe (1972-1978), by David Chelsea. Matt Groening, Bill Plympton, Jim Blashfield, Will Vinton and Gus Van Sant read the Portland Scribe. David Chelsea illustrated it.
Using OHS Moving Image Archives, by Julie Perini. Lew Cook (1909-1983), one of Portland's earliest film entrepreneurs, founded the Moving Image Archive at Oregon Historical Society. In 2015, co-directors Julie Perini, Erin Yanke and Jodi Darby used the OHS archive to source rare footage documenting Portland's history of protest. "Utilizing meditative footage taken at sites of police violence, experimental filmmaking techniques, and archival newsreel, ARRESTING POWER creates a space for understanding the impacts of police violence and imagining a world without police."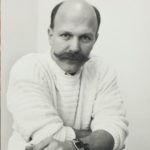 MHCC film school, by David Cress. From 1988 to 1995, under the leadership of Jack Schommer, Mount Hood Community College offered what might have been the only college degree program focused on Public, Educational & Government/Community Television. As part of a Portland metro area franchise, MHCC received a large grant to set up and sustain a community television training curriculum centered around cable access television and community media. One of its graduates is David Cress.